By Anointed Weddings of Maui
Available with all packages, the adventure wedding
of your dreams is only a heartbeat away.
"If you can dream it, you can do it!"
Looking for a little adventure on your Hawaiian Wedding day?
Below are a few of the adventure weddings that couples have created for their wedding day.
This one will surely be the WAVE of the future. Shoot the curl as you exchange your vows of joy. Taking off on the one final tandem ride into lifes endless summer of nuptial matrimony. Cowabunga. Thrill and risk factor depending on couple. You will have several surfing legends including the Minister to make this the most thrilling (and safest) ride of your life. Take off and drop in Dude and Dudette. Also ocean kayak wedding available too. Back To Top
Helicopter Waterfall Extravaganza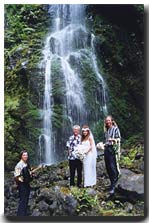 This one is the tops in wedding adventures. Safe, thrilling and ultra-exciting is the way to begin your life together as newly weds. Phenomenally scenic and breathtaking, you will fly to a secluded waterfall or private beach location to have a fantastic wedding ceremony that you will joyously remember forever. This journey will be professionally captured on video and photography to share with your friends and loved ones. Private and exciting, fun and thrilling, there is no other way to go. This is the one for you. Back To Top
Sailing the Blue Pacific Wedding
| | |
| --- | --- |
| | Sailing off the beautiful shores on the islands of hawaii is so spectacular, it defies even the most beautiful adjectives. The professional sailing crew and your wedding hosts will help you quickly and effortlessly melt into the Aloha spirit that is your Hawaiian wedding. The beautiful Hawaiian flower leis and bridal bouquet will add that extra special touch to your sweet wedding service. A professional video and photographs will capture the most precious moments of a lifetime. Back To Top |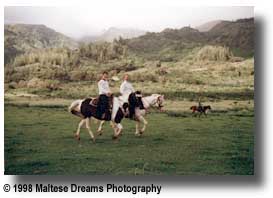 Romantic Horseback Wedding
Ride with us down some of the most beautiful country in the world to your Hawaiian wedding site. As you are taking in the scenic views beyond compare, a professional videographer and photographer will be capturing the time of your lives. Once at the wedding site, the wedding coordinator will see to your needs and present the hawaiian wedding leis and bridal bouquet to give that special splash of color to your moments of love. After the ceremony, you will enjoy cake and sparkling cider and take in all that was, all that is, and all that will be. There is no finer way to begin your oneness of love and marriage. Back To Top
Call Toll Free: 1-800-962-7622 to create your Adventure Wedding today
 

 Anointed Weddings
P.O. Box 11743
Lahaina Maui, Hawaii 96761
On Maui Call 808-665-0251
Fax: dial 808-665-0251

Home
| Wedding Packages | Adventure Weddings | Maltese Dreams Photography
Wedding Photos Slideshow | Testimonials | Bookmark Us